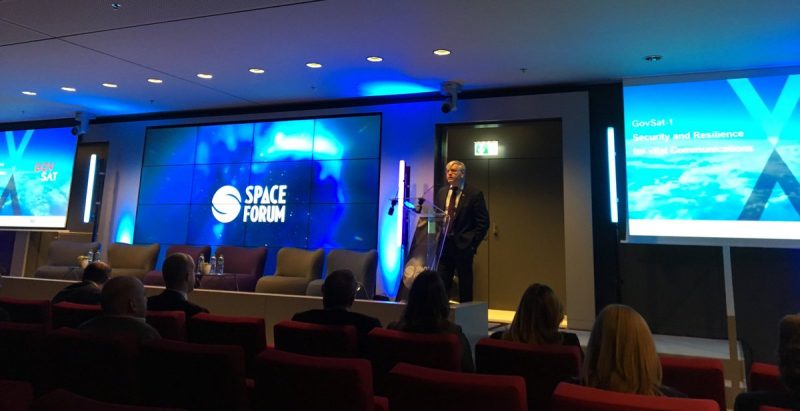 The Chief Commercial Officer of GovSat, Paul Wells, delivered a keynote speech on May 15 at the Space Forum during the stream dedicated to "New infrastructures and satellite data management: a data-driven economy". He sat down prior to the conference to answer a few questions.
What trend(s) do you see today regarding data?
Access to data is key for our society and essential for our Governments and institutions. Whether in a civilian or defence context, enabling access to information in real-time provides information superiority, which is crucial for successfully carrying out a wide range of missions, such as recovery ones in the aftermath of a humanitarian crisis or a natural disaster, or tactical information collection within a defence theatre of operations. Within a fast changing globalized environment and geopolitical challenges, threats to the vital access to information are constantly increasing. Networks or the data that they carry can be disrupted, altered, compromised or even disabled. Both telecommunications networks and infrastructures can be subject to accidental or intentional failures, filtering, monitoring or cyber incidents that are fully outside the control of its users. This also affects largely Governments through their institutional and defence operations across the globe.
When do satellite communications come in?
Satellite Communications (Satcom) have undisputed unique capabilities for many types of communications, be it for mobile, long distance or broadband use. Located at 36,000 km above the Earth's surface, geostationary Satcom is not affected by localized events, which may overload terrestrial infrastructures, as we have often witnessed in the context of natural disasters or acts of terrorism. Specialized security enhanced satellite communications are providing an additional level of assured access to communication means. Such satellite communications are in use by a limited number of nations, primarily addressing national defence priorities.
What is special about GovSat?
GovSat has been set up to provide secure, assured and non-preemptible communications for core Government and institution users. It is designed for dual use (e.g. defence and civilian) and to support cooperation with allied nations. It carries the latest generation of encrypted satellite control technology. Anti-jam capability is also provided as an additional measure to protect mission critical communications.