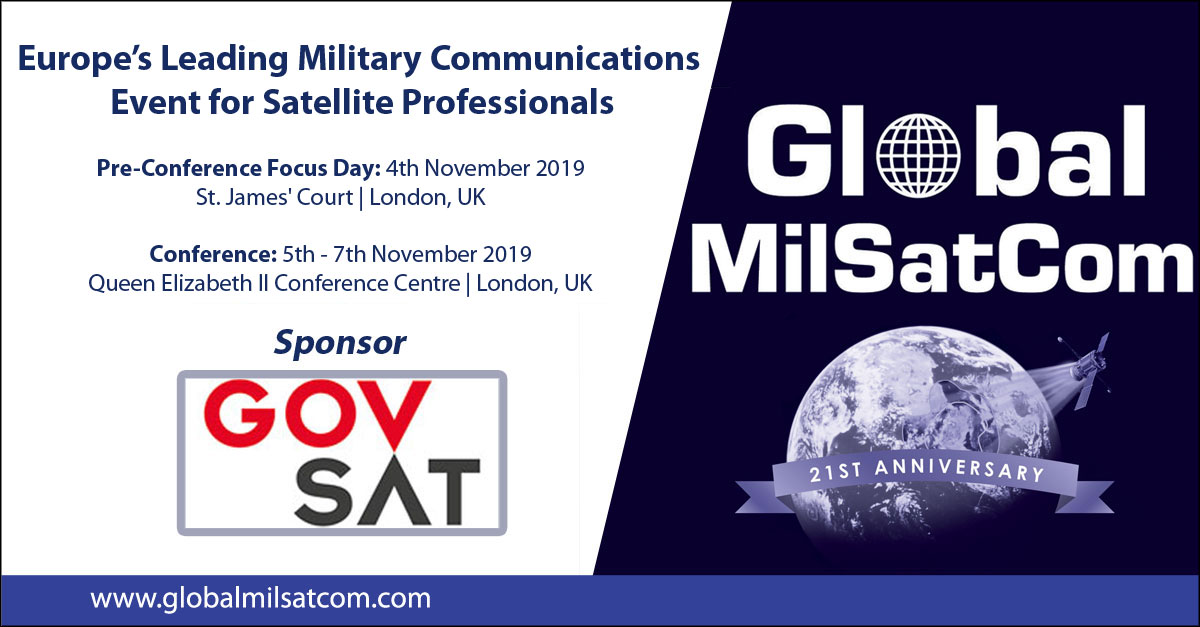 The 21st annual Global MilSatCom conference and exhibition will return to London on the 5th, 6th and 7th November 2019, alongside a Small Satellites and Disruptive Technology focus day on the 4th November.
Attending this year will provide delegates with a comprehensive overview of how allied partners are working to maintain and sustain space superiority.
The brochure with the agenda and speaker line-up can be downloaded on the event website, just click here.
GovSat will be present, join us there!
Event organisers, SMi Group, have released 9 key reasons to attend this year's Global MilSatCom:
1) Delegates will hear SATCOM updates from the following nations: Australia, Belgium, Brazil, Canada, France, Germany, Israel, Japan, Luxembourg, Malaysia, Netherlands, Norway, Romania, South Korea, United Kingdom, USA and more.
2)The agenda features over 50 key presentations discussing the latest topics on 'space superiority', UK's SKYNET programme and international SATCOM programme developments, allied collaboration and future military programmes, resilience and protection in future architectures, next generation LEO small sat constellation and more.
3)There is critical host nation support, providing comprehensive coverage of the UK's space sector and SATCOM goals.
4) Delegates will learn about collaboration between industry and military on current and future SatCom issues.
5) With an international speaker line-up unrivalled within other events, delegates will receive updates from established and emerging space-faring nations across the globe.
6) Delegates will understand the latest technological solutions.
7) There is a dedicated focus day looking at how small satellite constellations and disruptive space technology is revolutionizing space-based communications.
8) Delegates will have the opportunity to meet and network with 550+ attendees from defence agencies, militaries, governments and industry over 16 hours of breaks; as well as 2 drinks receptions and 2 (invitation only) conference dinners.
9) Delegates will have the chance to explore developments on US SATCOM – analysing growing requirements, programme proceedings and procurement plans.